BOW is based off of My BUB script for Ubuntu/Debian/Mint. Here is the link to the post for that.
https://www.ezeelinux.com/talk/showthread.php?tid=309
BOW is designed to help users running Arch Linux do basic and mundane actions. it is ran in a terminal and can be used at any stage of the Arch install and even after the installation is finished. i use it daily to run updates and check other things.
Here are some screen shots.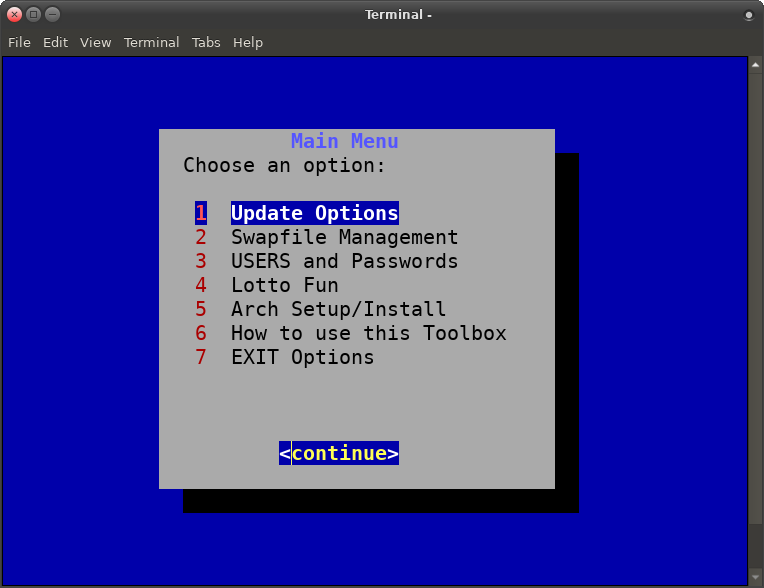 this is the main menu as you can see.
Lotto fun  is just a random lottery number generator.
And it is just for fun. hence the name.
It has nothing to do with Arch at all.
Though everything else is for Arch.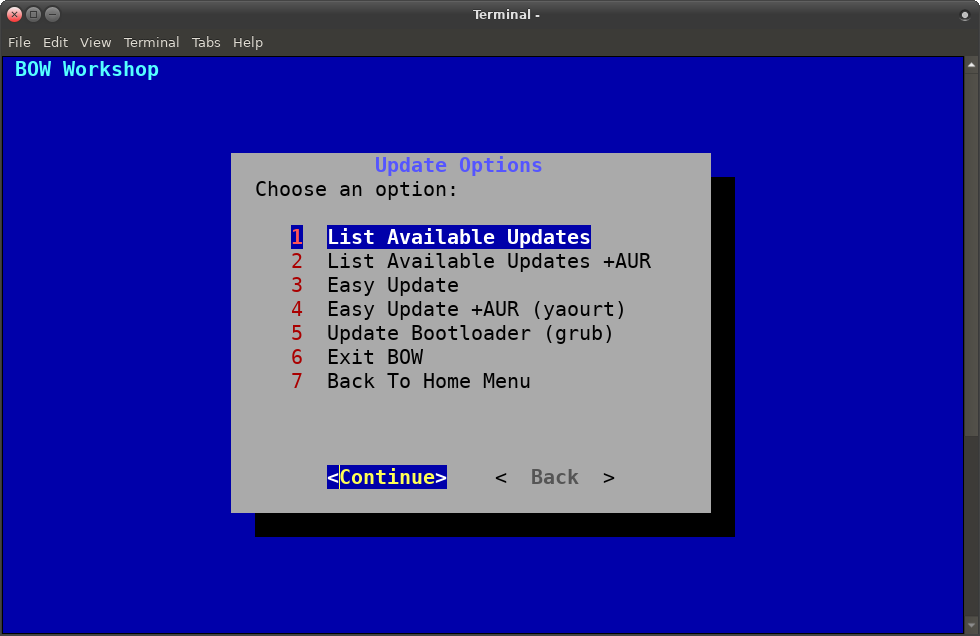 This by far is what i use the most in BOW. this is simple, fast, and relatively safe. Update Options is where BOW really shines  (IMHO).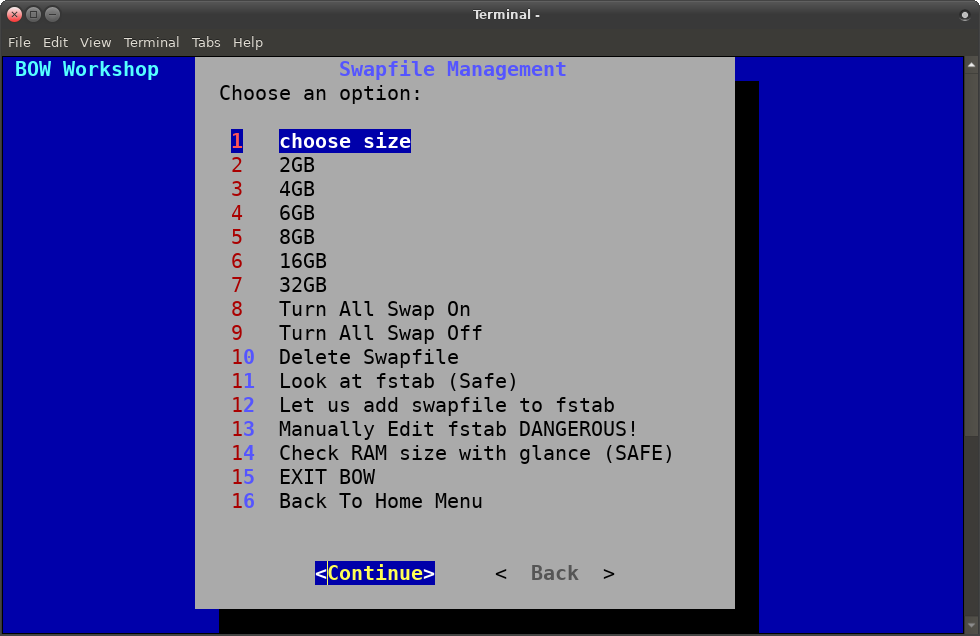 ever upgraded your ram? when using a swap partition it can be a pain to update that as well.  But with a swapfile it is as easy as a click of a mouse when using BOW.
OH, and It´s glances, not glance. yes that has been fixed.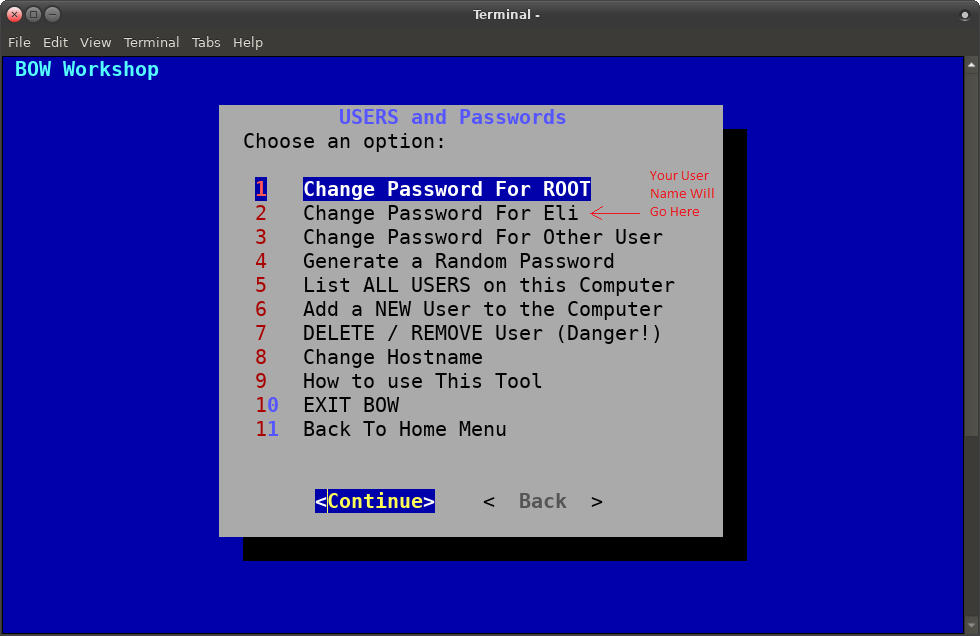 Users and Passwords is my second favorite spot.  This makes it a breeze to change a password, and you should do this often.
The "How to use this tool" has been removed. because it explains as you go (mostly).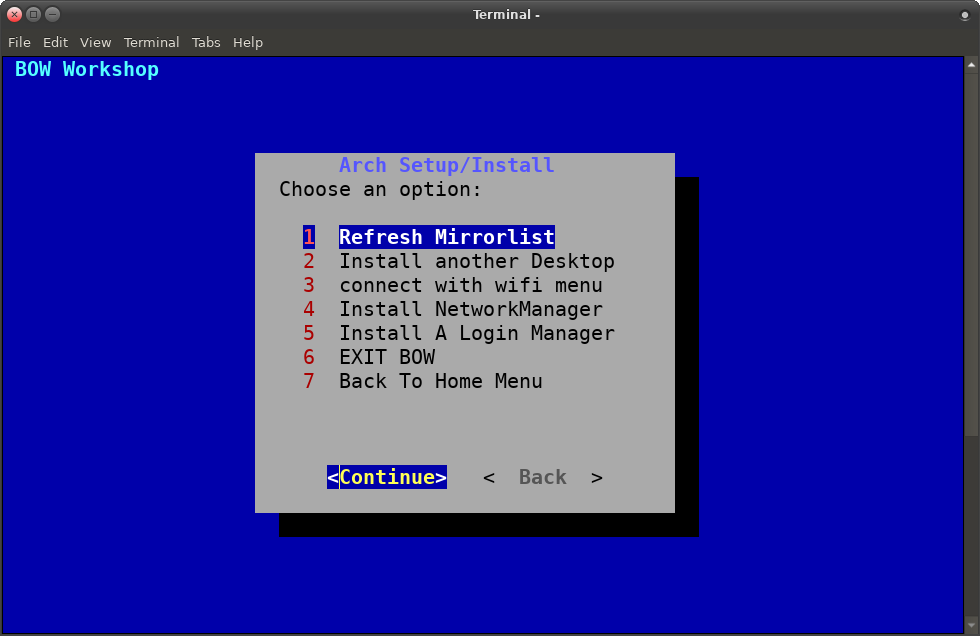 Refresh mirror list is a great tool for Arch. However it does NOT work in Manjaro because Manjaro has its own repos and doesn't carry reflector. Which is the app used to update the repos. Everything else is compatible with Manjaro (As far as i have found). So basically, while using Manjaro Reflector wont work, but then it wont be needed.
BOW will check for  four(4) apps. yaourt, dialog, glances, and reflector. If they are not installed BOW will install them. yaourt wont install unless it is needed ( Meaning until you click on something that needs access to AUR ).
This script and others can be found here
https://gitlab.com/arrowlinux/zub
to run it open a terminal and migrate to its location then enter
to make it executable.
then to run it enter
As with all my scripts, i build them to be as user friendly and as safe as possible. though i am not responsible for your actions, or any mishap that may arise from the use of any of my scripts in part or in full.  the responsibility is all yours. use at your own risk.
It was fun to build. I hope this script helps someone.
kudos