Linux Mint 20 forcibly disables and blocks Snap. What??
I want to open by saying that I think Mint is correct in their thought, but wrong in their execution.
Snap, in the way the store is ran could damage the Linux community in a very big way. The gatekeepers would be Canonical, Microsoft, Amazon, and a few other mega companies. Whose only interest is profit with no regard of the customers morals or ethics. They have shown this time and time again.
I believe that once they have a solid hold, and control all the apps we have access to, they will phase out open source and force the people to use proprietary software instead. Bringing about The end of open source as we know it.
At least they will try.
That being said, If Mint 20 tries to prevent you, the end user from being able to install something you want on your own machine, then are they really any better?
Fortunately the solution isn't that difficult. I built a Dialog script that gives the choice back to you. This can add or remove Snap. In case you change your mind.
Here is a screenshot of my old laptop with the script running. (Blue Window)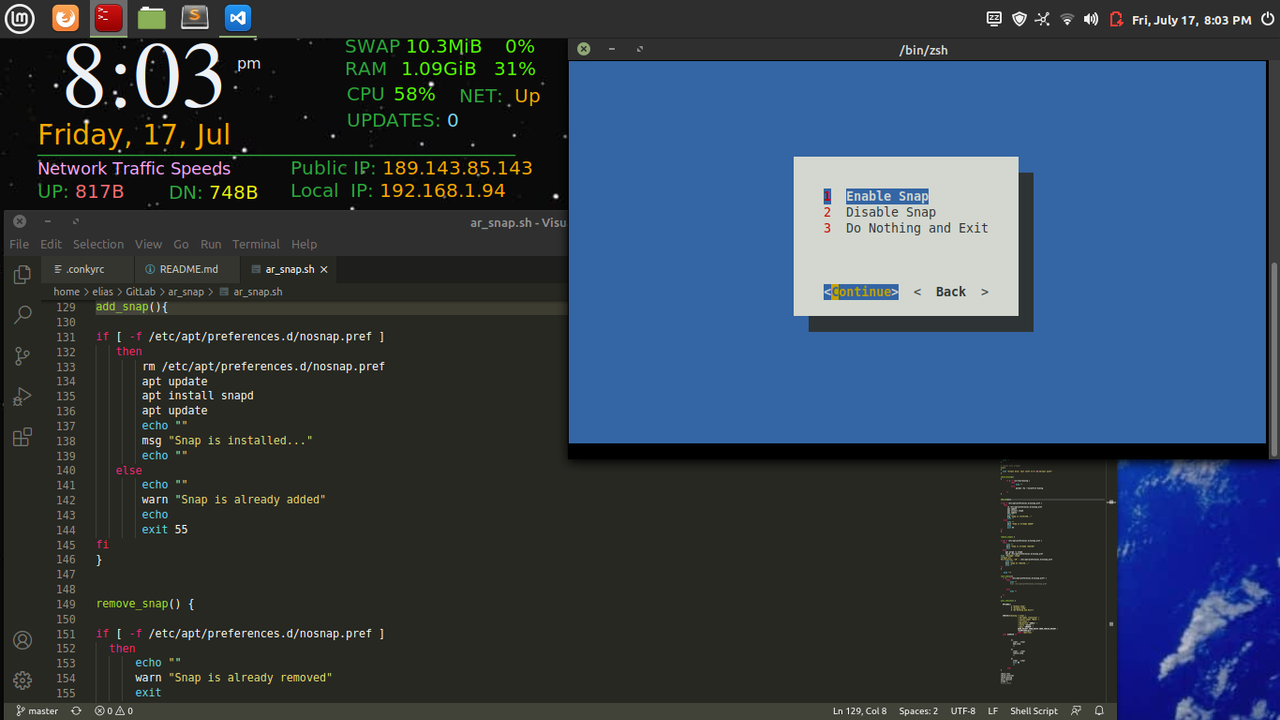 Simply click on enable or disable and it does the rest
to get the script, in a terminal enter
Code:
git clone https://gitlab.com/arrowlinux/ar_snap.git
or if you would like to examine it before downloading it, go here
https://gitlab.com/arrowlinux/ar_snap
to run the script, in a terminal enter,
Code:
chmod +x /location/of/ar_snap.sh

# then

sudo /location/of/ar_snap.sh

# it must be ran as root / sudo
There is a pause at the scripts startup because it is checking for root and network up. it usually only takes a second.
also if dialog isn't installed it will install it.
The fight for freedom is never ending but always worth it.
Even if it differs from mine. Your opinions, suggestions, and ideas are always welcome with  me.
hope this helps
Kudos
A computer without Microsoft is like a piece of chocolate cake without ketchup and mustard.


Telegram @eliasw4u